This shop has been compensated by CollectiveBias, Inc. on behalf of its advertiser, ZonePerfect. #MyLittleWins #CollectiveBias
Fall is the perfect time of year for a last minute day trip in New England. The leaves are changing color quickly, the air is crisp, and the kids are back to school! If you don't want to leave anything behind, read on to learn what to pack for a last minute day trip.
Doesn't it seem we are all juggling so much these days? Between running a household, taking children to and from school activities, running businesses, and squeezing in time for social events, the days are flying by! Before things get too crazy, it's important to squeeze in a last minute day trip to "get out of Dodge" and enjoy yourself. Remember these tips and you won't leave anything behind the next time you pack for a last minute day trip.
1| Check the Weather. I know you can't pack weather, but a last minute day trip can easily be ruined if you are not prepared for the weather. Be prepared for the elements and take a quick look at your favorite weather app on your phone.
2| Camera. When I take a day trip, I love to photograph all of the beautiful things I see along the way. Depending on where I am headed, I'll take my DSLR camera, a point and shoot, and other times I'll rely on the camera on my cell phone.
3| Comfortable shoes. Depending on where you are heading, you'll need comfortable shoes that are appropriate for the terrain. If you're hiking, wear a pair of durable boots. If you're visiting a city, a cushioned pair of sneakers will do the trick. When headed to the beach, don't forget your flip flops!
4| Healthier Snack Choices. Travel makes me hungry. It doesn't matter if it's an hour in the car, or six hours on a plane. I am hungry when I travel! For a last minute day trip, instead of grabbing candy bars, I reach for ZonePerfect® Chocolate Mint, 5CT and ZonePerfect® Chocolate Peanut Butter, 5CT while shopping at Walmart for day trip essentials. Making healthier choices throughout the day is easier when you have the right snacks with you.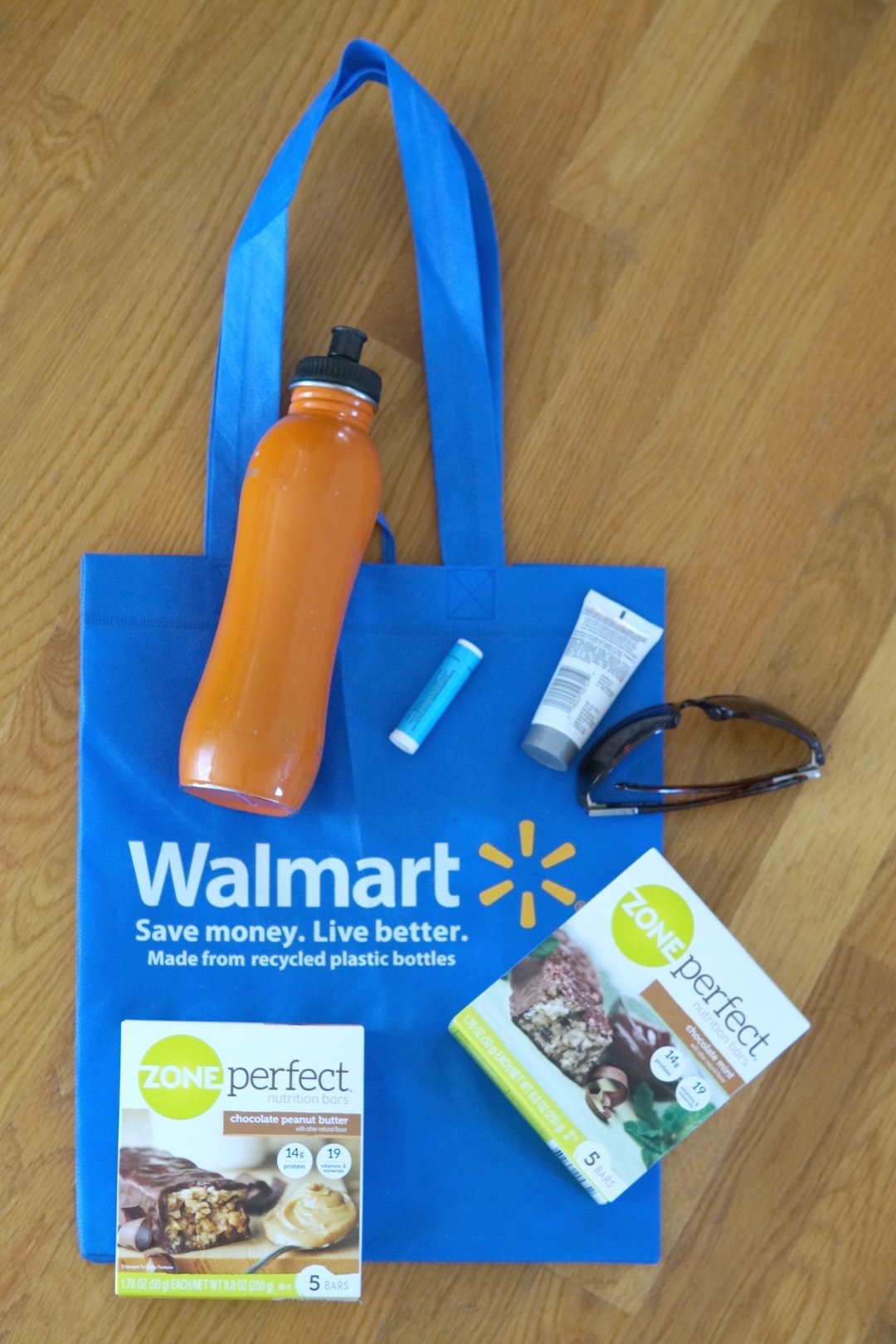 Interested in finding these ZonePerfect® bars for your next adventure? Hover over the photo to click through to Walmart.com and buy them!
Sign up for Ibotta and earn $1.00 with the purchase of ZonePerfect® Nutrition Bars at Walmart.
I choose ZonePerfect® bars because they're packed with protein that keeps me satisfied longer. Creating Little Wins™ with ZonePerfect® is easy because these nutrition bars are packed with great flavor that satisfies. I get more protein for my money when I take advantage of the great Ibotta savings, too! You are missing out if you haven't tried these yet. The ZonePerfect® Chocolate Mint is AMAZING – tastes like a cookie, yet packed with protein!
5| Sunglasses. When packing for a last minute day trip, never leave home without your sunglasses! I have a variety of sunglasses with different lens colors for varying weather conditions. Wearing sunglasses all year long protects your eyes and prevents squinting!
6| Lip Balm and Hand Lotion. Like sunglasses, I use lip balm all year. Choose one that offers SPF protection and your lips won't dry out and peel.
7| Refillable Water Bottle. I love using my own refillable water bottle when traveling for a day trip. It saves money and also encourages me to drink more water. Sometimes I bring my personalized water bottle and other times I use a plain refillable water bottle. Either way, I know that I am making smart beverage choices.
8| Maps and a guidebook. I don't want to miss anything on my day trip, so I bring along maps and a guidebook with me. Having an area map makes it easier to determine where to start my adventure so I don't miss out on anything along the way.
9| Stamps, quarters, and a penny. I love to send postcards home to my son when I travel. Children love to receive mail and a postcard is a fun, affordable way to tell them about your last minute day trip. Our family collects souvenior pennies, so I always have at least two quarters and a shiny penny with me! [Travelers Note: We did find that in some cities, like Washington, D.C., the souvenior pennies cost $1.01!]
What flavor ZonePerfect® Nutrition Bars would you pack for a last minute day trip?
You Might Enjoy These Posts