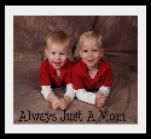 I'm guest blogging today over at Always Just a Mom.
You should be familiar with Always Just a Mom as Stephanie was my featured guest blogger recently and shared great tips on how to organize your spice rack.
Please swing by Stephanie's blog and check out my post about easy-to-make Teacher Appreciation pretzels!
If you're visiting me from Always Just a Mom, please let me know!